Make sure you
download
the
FREE Laguna Art Museum iPhone for OsCene 2010
!! Have all information about OsCene artists, the Museum, and all the cities in Orange County at your finger tips!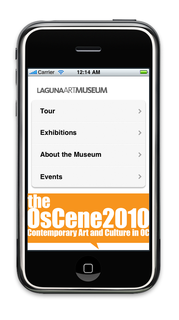 Or
rent
an iPhone Touch at the Museum front desk to have your own personal walking tour of the exhibition.
For more information about the OsCene Exhibition, visit our
website
.
What do you think about this new iPhone app????